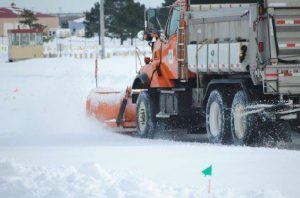 Winter maintenance agencies are continually searching for the perfect plow blade: durable, long-wearing, cost-effective, and effective in a range of conditions. Stainless steel and carbide-insert blades are staples of most DOTs' fleets, and agencies test new products each year, like flexible blade assemblies designed to conform to the roadway surface.
Specifications
A sampling of state specifications for plows and plow blades.
Product Experiences
Every year, Clear Roads member states share the results of pilot-testing of winter maintenance products and materials that their agencies have conducted.
View product experiences for blades and plows for 2016-2017.
Products reviewed include:
BlockBuster blades – hammerhead carbide
Ice-O-Force underbody blades
Joma plow blades
Kuper Kombi H ceramic-insert blades
Lake Effect blade assembly
Monroe flex plow with trip edge
PolarFlex blades
Power float valves
TowPlow
Other Research and Resources
RESEARCH
Videos
Videos from Clear Roads' Multiple Blade Plow Prototype project.
| | |
| --- | --- |
| Indiana DOT Prototype | Iowa DOT Prototype |
| Iowa DOT – Road Cleared Before and After | Iowa DOT – Slush Blade Removing Water |