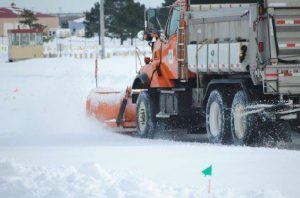 Winter maintenance agencies are continually searching for the perfect plow blade: durable, long-wearing, cost-effective, and effective in a range of conditions. Stainless steel and carbide-insert blades are staples of most DOTs' fleets, and agencies test new products each year, like flexible blade assemblies designed to conform to the roadway surface.
Related research topics:
Specifications
A sampling of specifications for plows and plow blades.
Product Experiences
Every year, Clear Roads member states share the results of pilot-testing of winter maintenance products and materials that their agencies have conducted.
View product experiences for blades and plows for 2006-2019.
Products reviewed include:
Air foil (Henderson)
BlockBuster blades
Evolution Edges blades
Ice-O-Force underbody blades
Joma blades
Kuper blades
Lake Effect blade assembly
Monroe flex plow with trip edge
Multiple-edge plows
Nordik Move cutting edges
PolarFlex blades
Power float valves
Razor XL
TowPlow
Other Research and Resources
RESEARCH
Videos
Videos from Clear Roads' Multiple Blade Plow Prototype project.
| | |
| --- | --- |
| Indiana DOT Prototype | Iowa DOT Prototype |
| Iowa DOT – Road Cleared Before and After | Iowa DOT – Slush Blade Removing Water |