One of the most important winter maintenance equipment is the plow blade. Blade types and materials can vary. Selecting the right plow blade depends on the task required.  Plow blade types include one-way-only, V and reversible.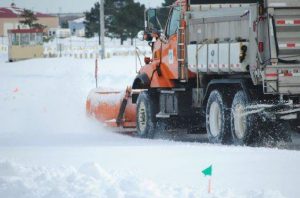 Blade materials include the following: poly, mild steel and stainless steel. While all three are satisfactory for commercial work, each has advantages and disadvantages. Poly is extremely resistant to scratches, dents, and corrosion, making it a quite durable option. Stainless steel is also corrosion resistant. Many find that stainless steel is the most visually appealing, yet it is more prone to dents and scratches. Mild steel is the industry standard. It is durable, rigid, and valuable but not quite corrosion resistant. While most are treated with zinc powder to prevent rust, over time rust will occur.
Specifications
Click on state to download specifications of plow blades for that state's department of transportation.
Product Experiences
Member states share results of pilot-testing of winter maintenance products and materials that their agencies have conducted.

View product experiences for blades and plows for the years 2006 – 2017.
Products reviewed include:
BlockBuster blades – hammerhead carbide
Ice-O-Force underbody blades
Joma plow blades
Kuper  Kombi H ceramic – insert blades
Lake Effect blade assembly
Monroe flex plow with trip edge
PolarFlex blades
Power float valves
TowPlow
Other Research and Resources
RESEARCH
RESOURCES
Videos
| | |
| --- | --- |
| Indiana DOT Prototype | Iowa DOT Protottype |
| Iowa DOT – Road Cleared Before and After | Iowa DOT – Slush Blade Removing Water |