News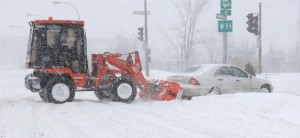 Snow Removal Apps Generated by Public Contests
Montreal named Heritage Software as the winner of a city contest to develop an app to track the city's snow-removal process, according to a Montreal Gazette story. The city has awarded a $25,000 contract to develop the app and release it in time for winter this year. In Michigan, the SnowFi app won the second annual Code Michigan contest, which encourages developers to create software that promotes government transparency. A Grand Rapids Press story reported that the developers won $15,000 to further develop the app, which shows roads that have been cleared of snow and the location of snowplows. The state may choose to release the app. Montreal Details. Michigan Details.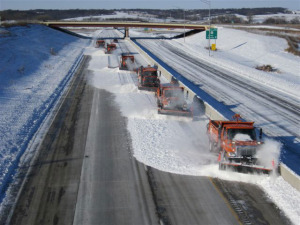 Iowa Expands Plow Cam Program
Iowa DOT will double the number of state snowplows mounted with cameras this winter, Radio Iowa reported. IDOT started testing cameras mounted on about 200 snowplows late last winter, which is scheduled to expand to 400 plows this year. Pictures from these cameras will be posted online to allow drivers to see road conditions in real time. The same site will offer color-coded maps showing varying road conditions statewide. Details.
Colorado Plans Mountain Road Outreach
Many vehicles slid off I-70 last winter due to worn tires, which led to major delays for travelers to and from ski resorts. The Denver Post reported that to prevent a repeat this year, Colorado DOT is planning education campaigns, traction checks and a program in which volunteers will patrol ski resort parking lots for vehicles with tires too worn to safely travel the mountain roads. These volunteers will leave fliers about where to buy replacement tires, as well as discount coupons. CDOT will also work with the trucking industry to keep trucks off the highway during bad weather, and the agency has hired an incident commander to manage the highway on weekends. Details.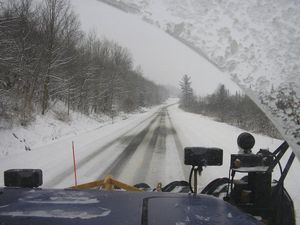 Road Salt Concerns on Adirondack Watershed
Adirondack Watershed Institute research has found that road salt has increased the salinity of Adirondack watersheds, the Plattsburgh Press-Republican reported. The AWI said that salt levels in streams in the Adirondacks can exceed levels found in urban areas. A working group of environmental advocates, road engineers, scientists and local and state government officials will set priorities for this winter's research, which may include options like trimming tree-lines along roads to allow sunlight to better melt snow, installing pervious pavement to reduce stormwater runoff, or using magnesium chloride instead of road salt. Details.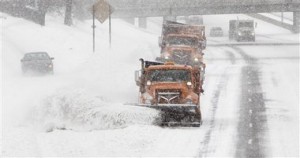 Michigan Seeks Winter "Road Watchers"
Michigan DOT is recruiting volunteers to help measure how well it maintains roads following winter storms, the Midland Daily News reported. These "Road Watchers" will be polled randomly after each storm to report conditions they encountered on several specified routes in four MDOT regions. They will also be asked to complete brief surveys periodically. MDOT says this feedback will help it to improve processes and better serve motorists. Details.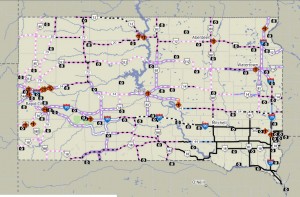 South Dakota Faces Snowplow Driver Shortage
South Dakota DOT said that a shortage of snowplow drivers will limit its plowing operations to one shift, the Aberdeen News reported. DOT plows, sanders and deicing trucks will typically work between 5 a.m. and 7 p.m., although some highways in the Rapid City and Sioux Falls areas will have extended hours. The state offers information about conditions through the ClearPath 511 telephone system and the online SafeTravel USA system. Details.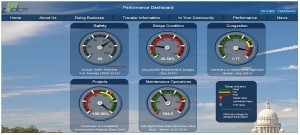 Rhode Island DOT Website Recognized
Rhode Island DOT's redesigned website was named 'Best DOT Website, Without Consultant' by the AASHTO Communications Subcommittee. One noteworthy feature is a performance dashboard that provides statistics on salt usage during winter operations, highway congestion levels, seat belt usage and bridge condition. Details.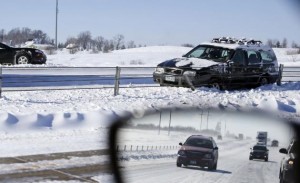 Minnesota DOT Changes Winter Road Condition Terms
Minnesota DOT will adjust the way it describes road conditions in its 511 online traveler information service, the Minneapolis Star-Tribune reported. The change represents an effort to give travelers more precise information about the road conditions they will experience during inclement weather. Instead of subjective terms like good, fair, difficult, or hazardous, MnDOT will start using terms like normal, partially covered, completely covered, travel not advised, or closed. These terms will also be reflected on a color-coded road map on the 511 site. Details.
Research Reports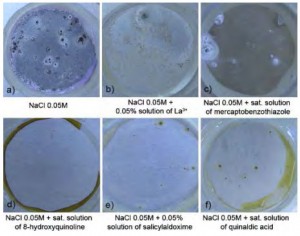 Developing Locally Sourced Brine Additive Alaska Department of Transportation & Public Facilities Report 4000(104)
This research developed and tested a series of locally sourced salt brine additives, created from local agricultural products and by-products from local distilleries, breweries and other manufacturing processes, for anti-icing in Alaska. Laboratory tests found favorable properties for two distillery by-products, while sodium metasilicate and potassium gluconate had optimal corrosion-inhibition properties. Report.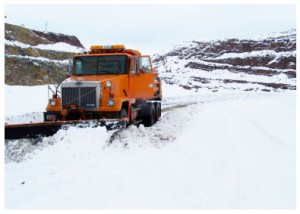 Deicer Usage on Concrete and Asphalt Pavements in Utah
Utah Department of Transportation Project UT-14.02
This project sought to determine if there is a statistical difference in the quantity of deicers used on concrete and asphalt pavements in the state. After correcting for differences in traffic volume and pavement area, deicer usage in the state was found not to be affected by pavement type for dry deicers, suggesting that maintenance costs should not be a factor in selecting pavement type. However, concrete pavement did correlate with higher spreading densities of brine, wetted salt, or wetted pre-mix deicers. Report.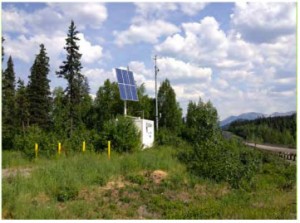 Review of Power Sources for Alaska DOT&PF Road Weather Information Systems: Phase I
Alaska Department of Transportation & Public Facilities Report 4000(122)
This report documents a review of power sources for six off-grid road weather information systems in Alaska. Based on information collected on current power sources used at the sites, and visits to off-grid installations in Alaska, several viable methods of operation were discovered. Solar photovoltaics provide enough power to keep the sites operational from early spring to late fall (with wind power supplementing somewhat during transitional seasons); a fossil fuel-based source is necessary to maintain operation through the winter. The report suggests that a combination of power sources is needed for reliable year-long RWIS operation. Report.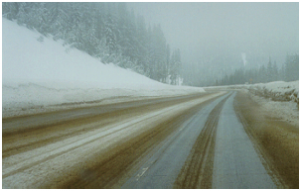 Highway User Expectations for ITD Winter Maintenance
Idaho Transportation Department Report 232
A web-based survey and focus groups collected information about Idaho residents' preferences for winter maintenance. The majority of respondents (60 percent) felt ITD should maintain its current level of service, while the remaining 40 percent felt the LOS should be increased. A plurality of respondents (45.5 percent) preferred the use of abrasives to treat roads, which suggests that there is a widespread public campaign needed to educate the public on the impacts that all winter maintenance materials and chemicals have and when they are most appropriate for use. Report.
Research in Progress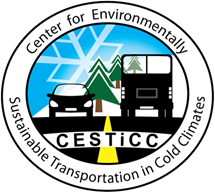 Recent Advances in Sustainable Winter Road Operations
Many states are examining the impacts of roadway deicers, including voluntary and regulatory controls to reduce their impacts, but there are no professional societies or scientific journals or textbooks dedicated to information about sustainable winter road operations. This project will develop a book that summarizes recent advances in sustainable winter road operations; a series of webinars will also be developed as book chapters take shape. Abstract.

Generic Framework for Winter Road Maintenance Based on a Management Process
There is a lack of guidance on how to address the conflicting principles of cost efficiency, environmental protection, traffic safety and human resources planning in winter road maintenance. This project aims to develop a management strategy for winter maintenance, particularly in forming strategic objectives and establishing a comprehensive controlling process. Abstract (in German).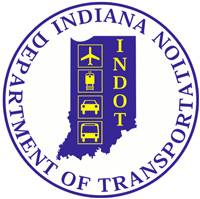 Performance of Deicing Salts and Deicing Salt Cocktails
This project will study how the composition of different salts interacts with cementitious paving binders to cause pavement damage. It will seek to develop a test procedure or rules of thumb that can be used to quantify the extent of the reaction that occurs between salts and paving binders. This guidance can be used to improve pavement binder selection and reduce the potential for joint deterioration. Abstract.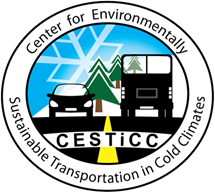 Bio-based Renewable Additives for Anti-Icing Applications
While the use of anti-icers improves level of service and reduces the need for de-icing chemicals, there are concerns about their corrosivity, impact on concrete and asphalt. and aquatic toxicity. The objective of this project is to develop anti-icing products using beet sugar refining by-products, glycerol and other bio-based additives. Abstract.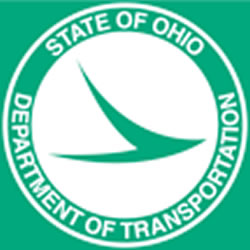 Evaluation of Cost Effective Protective Coatings for ODOT Snow & Ice Equipment
De-icing and anti-icing chemicals are highly corrosive to vehicles and equipment used for winter maintenance. This corrosion results in increased maintenance and repair costs, reduced vehicle life and increased vehicle downtime. This project will develop a corrosion prevention strategy, including synthesizing available knowledge about commercially available corrosion protection coatings, defining current best practices for coating application, lab testing about the effectiveness of protective coatings and the most appropriate application cycle for coatings, developing a standard operating procedure of the most effective coatings available, and a cost-benefit analysis. Abstract.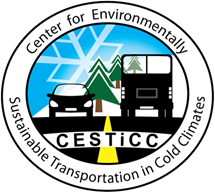 Environmentally Friendly Pervious Concrete for Treating Deicer-Laden Stormwater
Stormwater runoff is one of the leading causes of water pollution. Pervious concrete in parking lots, sidewalks and other applications has been increasingly used as a best management practice to reduce runoff pollution. This project will attempt to use nanotechnology to expand the use of waste and recycled materials in pervious concrete. Researchers will field test the product to evaluate its performance and its potential to treat deicer-laden stormwater and improve water quality. Abstract.