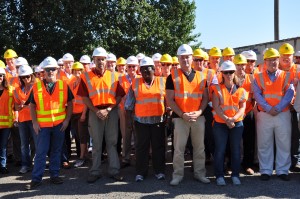 In collaboration with the Aurora pooled fund, Snow and Ice Pooled Fund Cooperative Program, FHWA, and the Pacific Northwest Snowfighters, Clear Roads helped to organize and host six national winter maintenance peer exchange conferences dedicated to information sharing and research coordination among winter maintenance professionals in 2007, 2009, 2011, 2013, 2015, and 2017. For reports, related documents and updates on follow-up activities for the peer exchanges, see the SICOP website.
Clear Roads co-sponsored the 2017 National Winter Maintenance Peer Exchange, which was held in Pittsburgh, Pennsylvania. Information on the 2017 peer exchange is available here.
Clear Roads will be co-sponsoring the 2019 Peer Exchange. The date and location are TBD. Contact Greg Waidley with any questions you may have.