Meetings and Events

2014 APWA North American Snow Conference
The American Public Works Association will hold the North American Snow Conference in Grand Rapids, Michigan, April 12-15. More than 1,500 winter maintenance professionals are expected to attend the conference, which will include educational sessions, networking roundtables, two technical tours, and an exhibit hall with more than 150 companies showcasing their products and technologies. A special interactive session will review the top 10 winter maintenance issues identified at last year's conference. Details.

Mobile Road Surface Condition Measurement Workshop
The World Road Association will host an international workshop on mobile road surface condition measurements in winter in Helsinki, Finland, March 11. The workshop will include reports on how road surface conditions are measured in Finland, Sweden, Germany, France, and one or two other countries, as well as an overview of research from Japan, the United States, and the Conference of European Directors of Roads. Details.
News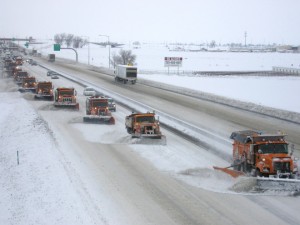 Winter Maintenance Makes National News
With much of the country locked in winter's grip, many recent reports in major media outlets have taken a look at the important—but complex—work of clearing snow and ice from roads after a winter storm. These articles may serve as starting points for conversations with agency public information officers and the general public about how winter maintenance operations balance public safety and mobility with concern for the environmental impacts of road salt and other deicing agents.
"Winter Weather Dilemma: Balancing Salt, Safety," USA Today, December 13: A review of the economic and safety necessity of winter road maintenance, with overviews of recent technology and chemistry advances. Details.
"How Colorado Keeps 9,000 Miles of Highway Clear of Snow," Wired, December 19: A technology-oriented profile of how CDOT maintains highways, with focus on storm tracking, communication, response planning, and its Maintenance Decision Support System. Details.
"Road Salt Use Gets Weighed Against Saving Money, Environment," Minneapolis Star Tribune, December 19: An overview of how snowfighters are working to minimize the amount of salt they use through anti-icing and the use of equipment that applies the minimum amount of salt required to do the job. Details.
"Road Salt Contributes to Toxic Chemical Levels in Streams," NPR, December 29: A report on concerns about the effect of road salt and the increased residential and business use of deicers on rivers and streams, and how winter maintenance agencies are reacting. Details.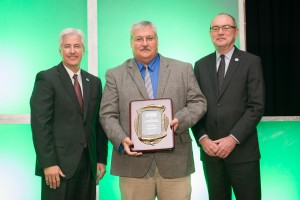 Idaho Winter Road System Improves Safety
Idaho Transportation Department's winter maintenance system has been credited for reducing accidents and fatalities on the state's highways. The system was implemented in 2011 and includes two parts: a storm severity index that uses wind speeds, precipitation, and temperature to help ITD determine when and which types of chemical treatments to apply; and a winter performance index that uses more than 100 sensors statewide to evaluate performance. ITD Winter Maintenance Coordinator Dennis Jensen received AASHTO's 2014 Alfred E. Johnson award for his work on the system. Details.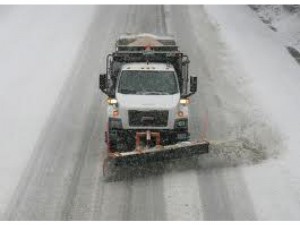 Virginia DOT Tests Brine-Only Routes
As part of their plans for winter maintenance this year, Virginia DOT Northern Virginia District revealed that they would be experimenting with applying a brine mix only in parts of Chantilly. The experiment will determine if brine is a viable alternative for maintenance to applying salt after plowing. The district hopes the approach will save money over traditional methods. Details.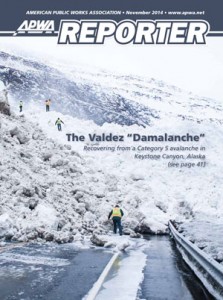 APWA Reporter Focuses on Winter Maintenance
The November 2014 issue of the APWA Reporter includes several articles related to winter maintenance. Features include a report on the salt shortage and how agencies can adjust their response to winter storms, a review of the top issues in winter maintenance as determined by a panel at last year's North American Snow Conference, guidance on building a successful winter maintenance operation, and a story about how the Alaska Department of Transportation and Public Facilities responded to a series of January 2014 avalanches that blocked the only road into the City of Valdez for 12 days. Articles also reviewed the history of U.S. snowfighting, how winning an APWA Excellence in Snow and Ice Control Award affected one city's operations, and Montreal's contracts for outsourced snow removal operations. November issue.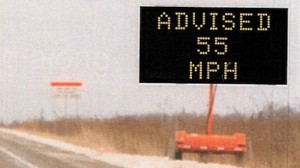 Iowa DOT Tests Adjustable Advisory Winter Speeds
Iowa DOT is testing what it believes is a unique system that calculates an advisory travel speed based on winter road conditions and sends it to digital signs to help drivers select appropriate speeds, Des Moines station KCCI reported January 28. The system uses lasers to monitor pavement conditions and software to calculate an advisory speed and transmit it to four digital speed limit signs in the 11 miles of I-35 north of Des Moines. IDOT hopes it will improve winter road safety by reducing the variation in driver speeds. Details.

Canada Issues Road Salt Targets
As recommended by Environment Canada's Five-year Review of Progress, the Canadian government has issued performance indicators and national targets for implementing best practices in environmental management of road salt. The targets do not ban the use of road salt, but they encourage agencies to adopt practices such as electronic application controllers, deicer optimization, and identifying and developing an action plan to protect areas that are particularly sensitive to road salts. Details.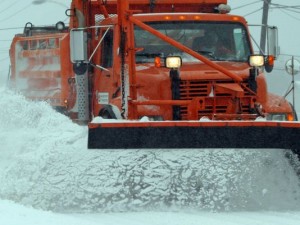 Iowa DOT Seeks Snowplow Light Pilot Project Approval
Iowa DOT hopes to conduct a pilot project to install flashing blue and white lights on the rear of its snowplows to improve safety—but the state legislature needs to approve it, the Des Moines Register reported January 27. State law restricts snowplow trucks to amber safety lights to avoid confusion with emergency response vehicles. A bill has been introduced to the state Senate, and is expected to be considered in the House as well. DOT snowplow trucks have been hit 218 times in the state since the 2009-2010 winter, causing $1.6 million in damage and 44 injuries. Details.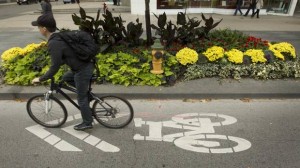 Toronto Expands Winter Bike Lane Maintenance
In a $300,000 pilot project, Toronto plans to salt or plow some of its dedicated bike lanes this year. The effort will expand next year, with routes that have more than 2,000 riders per day as the city's priority for cleaning. The city hopes that improved maintenance will increase the number of riders in the city to reduce road congestion. The project is also helping the city learn the best approaches for clearing snow and ice from bike lanes. Details.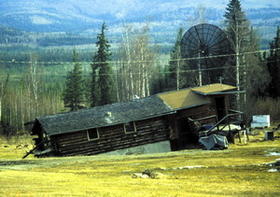 Melting Permafrost's Impact on Alaska Maintenance
Melting permafrost in Alaska has had significant impacts on the state's transportation infrastructure, including how the state has to maintain the roads during the winter. While winter temperatures near Fairbanks have traditionally stayed below freezing throughout the winter, recent winters have experienced cycles of freezing and thawing that have forced the Alaska Department of Transportation and Public Facilities to begin anti-icing efforts. The changing weather has also increased costs to keep roads in good shape during the summer months. Details.
Research Reports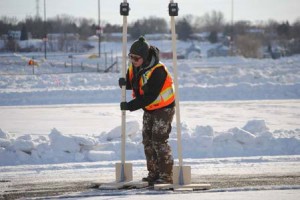 Salt Brine Blending to Optimize Deicing and Anti-Icing Performance and Cost Effectiveness, Phase II
Minnesota DOT Project 2014-43
This project expanded analysis of winter maintenance chemicals by collecting field data about anti-icer and deicer performance. Researchers assessed anti-icer persistence, deicer effectiveness, plow effectiveness, and the effect of pavement type on change in salinity. Warmer temperatures improved melting from deicers, with little melting observed below 10 degrees Fahrenheit, and wet pavements limited the effectiveness of anti-icers. The project provided scientific support for some of the anecdotal evidence provided by snowplow operators. Report.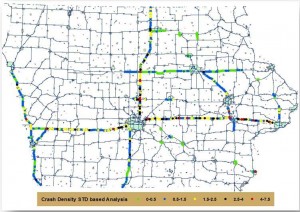 Safety and Mobility Impacts of Winter Weather—Phase 3
Iowa Department of Transportation Project 12-370
Previous phases of this project developed preliminary methods for the Iowa Department of Transportation to identify locations of interest to improve winter road safety based on crash history and evaluated crash mitigation analysis procedures at three high-priority sites. This phase of this project sought to develop and investigate a more systematic site prioritization protocol, develop crash frequency prediction models, and analyze winter weather and crash history at the prioritized sites. Issues identified included blowing snow, pavement condition, and road conditions related to temperature and time of day. Report.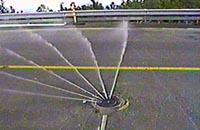 Benefit-Cost Analysis of CDOT Fixed Automated Spray Technology (FAST) Systems
Colorado Department of Transportation Report CDOT-2014-11
Colorado DOT evaluated Fixed Automated Spray Technology systems used to supplement winter maintenance operations through both national and CDOT surveys, safety analysis, and benefit-cost analysis. The 14 systems in the analysis were found to reduce the number of crashes on multilane rural highways by 2 percent, urban interstates by 16 to 70 percent, rural interstates by 31 to 57 percent, and interchange ramps by 19 to 40 percent. They also reduced crash severity at many sites. The 14 systems analyzed generated safety benefits totaling nearly $200,000 per winter season. Report.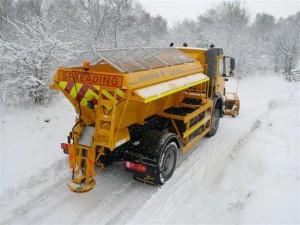 Comparison of Materials Distribution Systems
Clear Roads Report 12-05
This study collected information about salt spreaders from state and local DOTs to catalog current practices. Most survey respondents reported having confidence in the effectiveness of their spreader systems, but thought that their systems were ineffective before snow falls, suggesting the use of liquids for anti-icing applications. Researchers found that there is an acute need for testing of spreading systems due to limited available published studies. The project also produced a photographic catalog of different types of material distribution systems in eight categories. Report.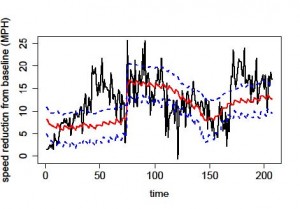 Quantifying Uncertainty in Real Time Performance Measurement for Highway Winter Maintenance Operations—Phase 2
Iowa Department of Transportation Project 13-388
A model of the expected speed reduction based on different winter weather variables and maintenance schedules is valuable to assess the performance of winter maintenance operations. This project sought to improve previously developed models to assess the impact of winter weather covariates (snow type, temperature, and wind speed) measured by roadside weather stations, as well as the effect of regular maintenance passes. The research produced a range of values for the parameter representing the impact of maintenance on traffic speeds, although the effect of maintenance is not a constant and cannot be stated precisely. Report.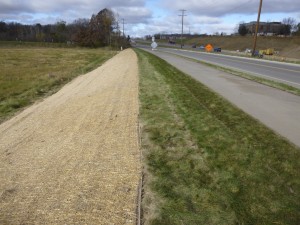 Developing Salt-Tolerant Sod Mixtures for Use as Roadside Turf in Minnesota
Minnesota DOT Project 2014-46
Failure of roadside grass installations is common in Minnesota due to high levels of road salt. This project evaluated individual turfgrass cultivars for their ability to establish and survive on Minnesota roadsides, as well as for their tolerance to salt in a laboratory environment. Researchers also tested turfgrass mixtures to develop MNST-12, a mixture of predominantly fine fescue species, that MnDOT has specified for roadsides. Report.
Research in Progress

Evaluation of Sensor Technologies for Winter Road Condition Monitoring and Performance Measurement
Accurate and timely information on weather and road surface conditions allows maintenance operations to deliver the right anti-icing and deicing treatments at the right location and time. Road surface conditions are traditionally monitored by patroller observation, which is not necessarily timely or objective. Technology-based solutions are still in a tryout stage. This project will demonstrate a smartphone-based mobile condition monitoring system and compare it to spectroscope sensor-based and continuous friction measurement equipment-based options. Abstract.

Using Operational Data to Assess Mobility and Crash Experience During Winter Conditions
The effectiveness of winter weather maintenance efforts at improving safety and mobility have historically been difficult to quantify. The use of fixed and mobile sensors and improved data collection and archiving practices may make performance assessment more feasible, however. This project will identify and investigate the potential applications of expanded maintenance, roadway, traffic, and weather data in Iowa. Abstract.

Unconventional Application of Snow Fence
Utah DOT initiated this project because its Region 3 maintenance staff noticed that snow fences placed on the right-of-way line (contrary to recommendations) appeared to reduce the need for plows to re-visit roads after storms to clear drifting storms. This study will examine nonconventional application of snow fences to document the effectiveness of existing locations and determine the conditions in which additional fence would likely be successful. Research Problem Statement.


An In-Depth Assessment of Montana Road Weather Information System (RWIS)
Montana Department of Transportation currently has 72 road weather information system stations throughout the state. All of the department's RWIS stations are fixed, and other entities also rely on them for information. This review and assessment of the state's road weather data collection program will ensure the efficient use of weather data in various transportation applications and the optimum use of department resources. Abstract.