Three States Deploy Intelligent Snowplows
Michigan, Minnesota, and Nevada are testing hundreds of plows with custom sensors that continually measure road and weather conditions. The Pikalert Enhanced Maintenance Decision Support System, built by the National Center for Atmospheric Research, combines sensor measurements with satellite and radar observations and computer weather models to help agencies identify stretches of roads where there are dangerous conditions. If the system passes key tests, it will be transferred to private vendors and be available to additional states in time for next winter. Article.
Alaska Tests "Icebreaker" Plow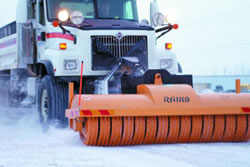 Since November 18, Alaska DOT has been testing an experimental icebreaker tool in Fairbanks, Anchorage, and other areas of the state, according to the Fairbanks Daily News-Miner. The icebreaker is a 3,800-pound wheel, with rows of metal spikes, that attaches to the front of a plow truck like a snowplow. The spikes break up the ice, allowing a plow to move loose pieces from the road. Article.
Minnesota Implements New Living Snow Fence Payment Calculator Tool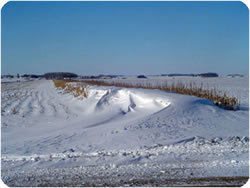 Minnesota DOT has developed a new web-based calculator that generates cost-benefit analysis reports to help set reimbursement rates for landowners who create living snow fences. The CTS Catalyst reports that MnDOT is using the tool this winter to determine where to add standing corn row snow fences near Gaylord, where blowing and drifting snow is a significant problem. MnDOT will make the tool available to other transportation agencies in Minnesota and around the country and world next fall, and will conduct outreach workshops to demonstrate how to use it. Article.
AASHTO Overview of Innovative Winter Maintenance Technologies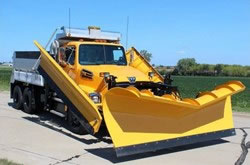 A December 2013 AASHTO press release highlights several of the innovative technologies that state departments of transportation are evaluating during the 2013-14 winter for their effectiveness in maintaining roadways. Among these efforts are Nevada DOT's "Integrated Mobile Observation" demonstration project, which deploys 20 plows and trucks to report road conditions by radio rather than cell phone to improve reliability in rural areas; Tennessee DOT's test of a potato juice-based deicer; an expanded fleet of dual-wingplows in Maryland; and live road monitoring networks in Utah and California. Press Release.
APWA Reporter Focuses on Winter Maintenance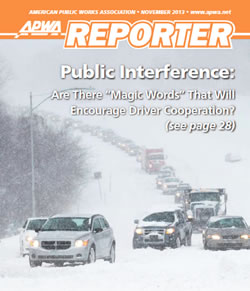 The November 2013 issue of the APWA Reporter includes several articles related to winter maintenance. Topics covered include how the language used in communicating winter conditions to the public affects their behavior, winter maintenance of bicycle and pedestrian facilities, the role of the Incident Command System in winter maintenance, and a report from international winter maintenance conferences. November issue.
Washington Reflectors Indicate Road Conditions
Asotin County, Washington recently installed roadside reflectors near steep grades that turn blue when the area gets below freezing. The reflectors are intended to help drivers know when conditions are right for the formation of black ice, a common cause of accidents. Article.
Montreal Suburb Installs Safety Cameras on Salt Trucks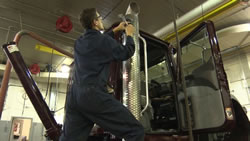 Westmount, Quebec, has installed cameras on the back and right-hand side of its winter maintenance vehicles and other large trucks. CBC News reports that the cameras supplement side guard rails that were installed after a pedestrian was killed by a turning snow-removal truck in 2005. The cameras and installation cost about $1,000 per truck. Article.
State Maps Show Real-Time Snowplow Operations

Virginia DOT and Iowa DOT have created online maps that show residents where snowplow crews are operating and which streets have and have not been plowed after a storm. These maps are updated every few minutes with current road conditions. Many cities, such as Ann Arbor, Michigan, have created similar maps on a local scale.
Winnipeg Plans Trial of Granite in Sand Mix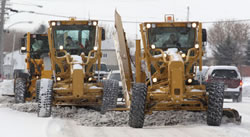 The Winnipeg Sun reports that the city plans to test a mix of granite and sand for winter road maintenance this year. The city hopes that the harder, more angular granite chips will embed into snow pack on the roadway and help traffic break the snow down more efficiently. Article.
Research Reports
Determining the Toxicity of Deicing Materials
Clear Roads Report 11-02, December 2013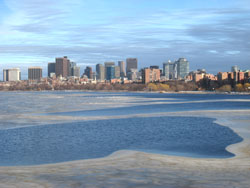 This research investigated the relative toxicity of eight commonly used deicing chemicals for their impact on representative aquatic fish, insects, and plants. The chemicals tested represented several Pacific Northwest Snowfighters chemical product and corrosion inhibitor categories. Overall, sodium chloride brine was least toxic, followed by calcium chloride, magnesium chloride, and potassium acetate, although inhibitors also affected toxicity. Notably, an agricultural by-product-based inhibitor, Beet 55, was found to be more toxic than expected to the tested organisms. Report.
Understanding the True Costs of Snow and Ice Control
Clear Roads Report 10-03, December 2013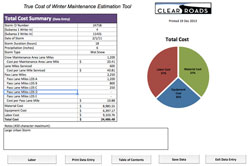 Researchers developed the True Cost Tool, which allows users to analyze and compare winter maintenance costs. The tool will help transportation professionals better understand and communicate costs and perform what-if testing to see how changes to certain variables will affect costs. The researchers also recommended which data winter maintenance agencies should be collecting to better link their costs to the level of service they provide. Report.
A Comprehensive Analysis of the Association of Highway Traffic with Winter Weather Conditions
2nd Conference of Transportation Research Group of India, December 2013
Using hourly traffic data from 350 permanent traffic counter sites and six weigh-in-motion sites, as well as weather data from 598 weather stations in Alberta, Canada from 1995 to 2010, researchers investigated the impact of various combinations of cold and snow intensities on passenger car and truck traffic levels. Each centimeter of snowfall reduced traffic volume by 1% to 2% when the temperature is above 0ºC, with additional reductions of 0.5% to 3% per centimeter during severe cold. Report.
Evaluation of Epoke Bulk Spreader for Winter Maintenance
Ohio DOT Report 2012/24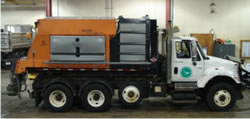 Ohio DOT evaluated the Epoke Bulk Spreader, which is capable of applying salt and brine over multiple lanes in a single pass. The research found that the spreader reduced salt usage by 12% in deicing applications and also saved labor, leading to an estimated payback period of 8 years, assuming 20,000 tons of salt is used annually at a cost of $40/ton. Benefits were less pronounced for anti-icing applications. Report.
Impact of Work Zone Warning Light Configurations on Driver Behavior
Minnesota DOT Office of Maintenance Report, November 2013
Using an automated surveillance system permanently installed at an intersection in Goodhue County, Minnesota, researchers tested the effect of seven different warning light configurations on the behavior of drivers as they passed a patrol vehicle parked in the right shoulder. Full-width warning light bars, additional lower lights, and a combination of blue and amber lights were each factors that made drivers more likely to switch to the left lane when passing the patrol vehicle; 99% of all drivers used the left lane to pass the vehicle when its warning light configuration included all three features. Report.
Friction Measurement System for Polk County
Minnesota DOT Report 2013-26, November 2013
This research developed and tested a snowplow-mounted road friction measurement system. The system, which consisted of an instrumented wheel mounted near a snowplow's front axle and an algorithm to compensate for vibration from the snowplow, successfully detected slippery patches in preliminary tests. However, bearings in the pivot that raises and lowers the wheel failed in field tests for both the original model and a reinforced version. Report.
Flame Hardened Underbody Plow Blades
Iowa DOT Report RB13-012, April 2013
This project evaluated the lifespan of oven-baked snowplow blades. The flame hardened blades tested lasted an average of 335 miles, compared to 273 miles for through hardened blades. However, cost per mile of the flame hardened blade was $0.51 per mile, compared to $0.34 per mile for the through hardened blade. Many of the flame hardened blades broke vertically into two or more pieces, causing safety concerns. Report.
Measuring Salt Retention
Iowa DOT Report 12-443, March 2013
This research compared three types of salt spreaders at three different truck speeds and brine rates to measure salt distribution across the lane. Chute spreaders were found to deliver the most salt at comparable speeds and brine rates, followed by zero-velocity and standard spreaders. Standard spreaders distributed salt most evenly across a lane, while chute and zero-velocity spreaders both delivered more salt immediately under the truck. Report.
Backing Warning Sensors for Tow Plows
Iowa DOT Report RB-07-012, June 2013

Backup warning devices were evaluated to determine if they successfully alerted tow plow drivers to obstacles behind the trailer and out of the driver's view. The system did alert drivers to items behind the unit, and there were no backup accidents reported during the research period. However, there were reports that the system was not completely waterproof, and salt brine caused one sensor to fail. Report.
Winter Maintenance at TRB

Many papers related to winter maintenance were presented at the 2014 Transportation Research Board Annual Meeting. Clear Roads has released its annual overview of these papers, including abstracts, author contact information, and links to each paper. (TRB requires a login to access full papers, which is free to TRB Annual Meeting attendees and available for purchase to others.) Report.
Research in Progress
Improving Estimations of Real-Time Traffic Speeds During Weather for Winter Performance Measurement

To help winter maintenance agencies optimize resource usage, this research will refine a winter maintenance performance measure developed in Iowa Highway Research Board Project TR-491. The refinements will attempt to more accurately predict real-time traffic speed drops using better uncertainty measures during major weather events. Abstract.