Meetings and Events

2014 Snowposium
The 2014 Snow and Ice Management Conference and Expo, hosted by the Snow & Ice Sector Group of the Landscape Ontario Horticultural Trades Association, will be held September 16 in Milton, Ontario. The event will feature conference sessions on material reduction best practices, material supply lessons learned from the 2013-2014 winter, and several other topics, as well as a trade show, exhibits and outdoor demonstration. Details.
Western Snow & Ice Conference & Roadeo
APWA's Western Snow & Ice Conference will be held September 24-26 in Loveland, Colorado. With the theme "There's No Business Like Snow Business," the conference will feature a variety of education, training and roundtable sessions, as well as an exhibition with double the space of previous years. The National Snow Roadeo, held during the conference, will test the skills and knowledge of equipment operators from around the country. Details.

Transportation Research Board Annual Meeting
The 94th Annual Transportation Research Board Meeting will be held January 11-15, 2015, in Washington, D.C. at its new venue, the Walter E. Washington Convention Center. With the theme "Corridors to the Future: Transportation and Technology," the meeting will include more than 4,500 presentations in nearly 800 sessions and workshops, including sessions sponsored by the Committee on Winter Maintenance. Approximately 12,000 transportation professionals from around the world are expected to attend. Meeting registration and hotel reservations through the TRB Housing Bureau will open in September. Details.
News
Justifying Winter Ops Spending
An April 2014 Public Works article details Ohio DOT's efforts to implement a data-based system to evaluate its winter maintenance performance. The system combines data from a statewide RWIS, the National Weather Service and a private contractor to show that it is spending its $50 million budget efficiently. This information allows ODOT's Central Office to have pre-planning sessions when severe weather approaches, and to set a two-hour goal for recovery after a winter storm ends. Details.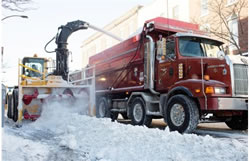 Montreal Issues Snowplow App Challenge
Montreal is inviting programmers to develop a web-based app to improve the city's snow clearing operations, with real-time updates on snow removal using data from GPS technology scheduled to be installed on plows later this year, the Montreal Gazette reported. A panel of city officials will judge prototypes in a public session and award cash prizes to three entries. The city will independently select one entrant for a contract to collaborate on an app for the 2014-15 winter season. The city hopes to develop the app for less than $25,000. Details.
Winter Road Congress Highlights
The first quarter issue of Routes/Roads provides highlights and excerpts from selected presentations from the Winter Road Congress held in Andorra February 4-7. Of particular interest to winter maintenance professionals are papers on a benefit-cost approach to level of service standards, improving the U.K. road network's resilience to severe winter weather, and winter maintenance in and near tunnels in Quebec. (Access requires a free registration.) Issue Number 361.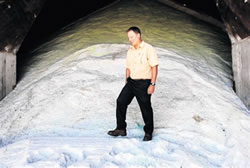 Communities Scramble to Find Road Salt
Last year's hard winter has led to depleted road salt supplies, the Associated Press reported. According to the Illinois Department of Central Management Services, which oversees a shared procurement process, 195 out of 562 communities that participated in a solicitation for bids for salt received no bids. Prices range from $70 to more than $140 per ton, up from last year's typical rate of $55 to $65 per ton. Details.
Research Reports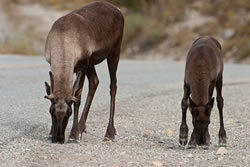 Impacts of Using Salt and Salt Brine for Roadway Deicing
Idaho Transportation Department Research Project 231
This research investigated the impact of salt and salt brine on vehicle corrosion, wildlife-vehicle collisions and the environment through a review of literature and state practices. Ranking relative deicer corrosiveness was found to be difficult because atmospheric conditions and the specific metals in a vehicle affect the corrosiveness of a chemical. Salt can affect vegetation and water quality, although it may have less of a negative impact than abrasives used to add traction to snowy roads. While salt definitely attracts large animals like deer or moose to winter roads, it is unclear whether that leads to an increase in wildlife-vehicle collisions. Report.
Alternative Delivery Methods for Winter Maintenance Operations
NCHRP Project 20-07, Task 329
Highway agencies have employed a variety of alternative approaches for delivering highway maintenance in recent years, such as individual service contractors directed by government employees, bundling services by type or geography, annual or multi-year agreements, and a variety of contract and quality management approaches. There is no systematic decision-making framework for identifying the most effective delivery method for winter maintenance operations in a given situation. This project developed that framework. Report.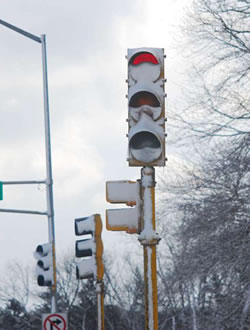 Traffic Signal LED Module Specification Workshop and Informational Report for Snow Conditions
FHWA Report HOP-13-010
One unintended consequence of the implementation of LED traffic signals is that, since LEDs do not produce heat, they do not melt snow on traffic signals during a winter storm. This research identified significant weather variables that can contribute to snow and ice buildup on LED traffic signal lenses, including near-freezing temperatures, humidity at approximately 90%, atmospheric pressure below average sea level pressure and wind speeds greater than 10 mph. By predicting this buildup, traffic engineers will be able to take a proactive approach toward minimizing the negative effects. Report.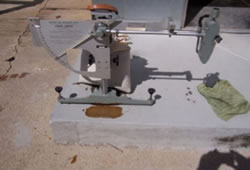 Experimental Studies on Development of Sustainable Agricultural-Based Road Transport Deicing Applications
International Journal for Traffic and Transportation Engineering, Volume 4, Issue 2
A number of agricultural-based deicer materials have been developed or are currently under development. Little information is known about the actual manufacturing and refining process, however, since most of the developed deicers are proprietary. The objective of this research was to evaluate deicer materials for their likely effectiveness, usability, cost, impacts on pavement and vehicles, and effects on the environment. Researchers concluded that a mix of 20% salt and 80% glycerol shows promise as a deicer due to its biodegradability, water solubility and lack of odor and color. Report.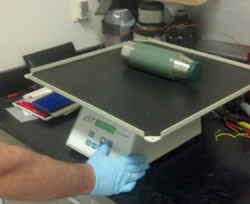 Development of a Mechanical Rocker Test Procedure for Ice Melting Capacity Evaluation
Nebraska Department of Roads Project M322
This research sought to perfect a test procedure using a martini shaker to evaluate the ice melting capacity of liquid deicers. It focused on the use of a mechanical rocker to shake the device, rather than shaking by hand, to avoid introducing error due to the variability of shaking. The procedure developed achieved consistent results with a standard deviation of 1.15%. The procedure will be submitted to selected departments of transportation and Clear Roads for feedback, and when validated, may be proposed to AASHTO for adoption as a standard test of the ice melting capacity of liquid deicers. Report.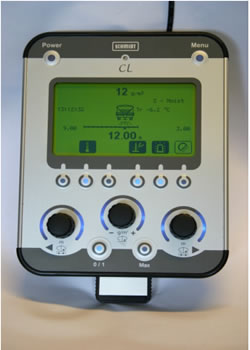 Developing a Totally Automated Spreading System
Clear Roads Report 11-03
This project assessed the current state of automation technology for material spreaders through a literature search and survey of winter maintenance professionals. Researchers wrote three guides that provide an introduction to spreader automation technology, a hierarchy of automation that snowfighters can use to assess their current equipment, and an overview of currently available systems and the features they offer. Report.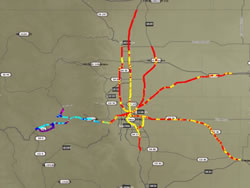 CDOT Thermal Mapping ReportColorado DOT Report 2014-5
Thermal mapping is a process of measuring the variation of minimum night time road surface temperatures, which are overwhelmingly influenced by prevailing weather conditions. This project conducted thermal mapping of approximately 1,000 miles of Colorado roads in an effort to determine whether thermal maps would be useful to decision-makers in CDOT regions. Researchers split the thermally mapped network into five climactic domains to take account variations in weather conditions on winter nights that can affect temperature profiles and forecasts. Report.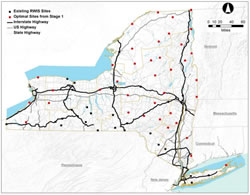 Road Weather Information System Statewide Implementation Plan
New York State Department of Transportation Report
This purpose of this project was to develop a plan for deploying a statewide RWIS to support current and future operations in New York. Researchers investigated the state's current network of RWIS stations, finding a number with communication or pavement sensor errors. The project also identified inexpensive options for filling gaps in the RWIS network, including low-cost light RWIS stations and mobile weather observation stations. Report.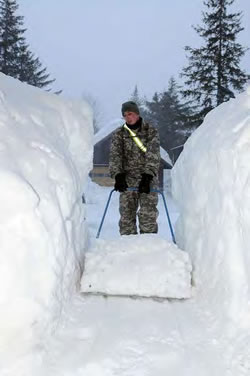 Response to Extreme Weather Impacts on Transportation Systems
NCHRP Synthesis 454
This synthesis examines eight recent cases of extreme weather in the United States from a variety of perspectives. One of the case studies is a series of heavy snowstorms in Cordova, Alaska, in 2012. The case study examines planning for maintenance operations, communications, interagency coordination in maintenance response, and data and knowledge management. Report.
Research in Progress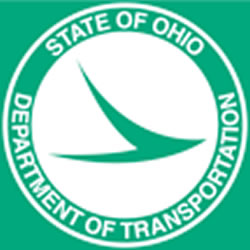 Evaluation and Analysis of Liquid Deicers for Winter Maintenance
Ohio DOT initiated this project to evaluate which commercially available liquid deicers have minimal environmental impact, low corrosiveness, high melting capacity and are compatible with its equipment and materials. The project will include laboratory and field tests under various temperature, environmental and roadway conditions; a recommendation of deicers for various conditions; and an evaluation of the feasibility of implementing liquid deicers based on ODOT's current equipment and storage capabilities. Abstract.

Mitigating Shoulder Drop-Off
Intermittent rainfall, drought and chlorides from winter maintenance operations can cause unstabilized earth shoulders to consolidate, creating a shoulder that is lower than the adjacent pavement. Significant vertical shoulder drop-off can be a serious safety hazard on highways. This project will work to identify procedures, materials and methods to mitigate the problem of pavement edge drop-off. Abstract.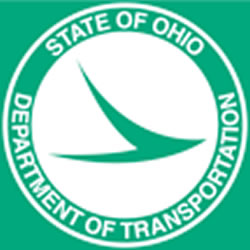 Implementation and Analysis of Snow Removal Wash Water Reuse Research
Ohio DOT's recent research project on identifying cost effective and environmentally sustainable strategies for managing waste water from washing deicers from winter maintenance vehicles demonstrated the potential for recycling a large percentage of that water. In an effort to incorporate the research into daily operations, ODOT is conducting a pilot implementation project in two districts. Anticipated outcomes include verifying the recommendation for a 24-hour settlement period before reuse of water, initiating an in-house testing program for waste water, and incorporating a confidence rating into the initial study's cost analysis tool. Abstract.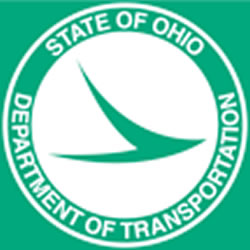 Implementation and Analysis of Epoke Research
Ohio DOT recently conducted a research project that demonstrated the potential for financial savings and efficiency improvements by incorporating the Epoke spreader into its winter maintenance operations. In calculating the cost savings and payback period, however, researchers only considered material and labor costs. Other potential savings that may arise include roadway user savings, delay reductions and crash reductions. This research will validate the original savings estimate, confirm the original study's deployment strategy, estimate cost savings including indirect user costs and develop a strategy for ongoing evaluation. Abstract.

Environmental Impacts of Oil and Gas Brine Applications for Dust and Ice Control in New York
In states with active oil and gas wells, the potential for using brine from those wells is currently being explored for treating roads for ice or dust control. However, this brine raises environmental concerns, including its potentially high concentrations of metals and total dissolved solids, as well as the possibility of elevated levels of organic compounds and chemical additives. The objective of this work was to determine the potential for chemicals found in oil and gas brine to leach into groundwater. Abstract.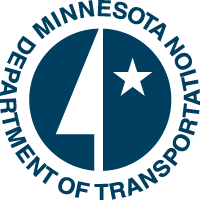 Chloride Free Snow and Ice Control Material
The goal of this project is to find alternatives to chloride-based chemicals for conducting winter maintenance, due to concerns for the environment, and particularly lakes and rivers having unacceptable chloride levels. The result will be a Transportation Research Synthesis summary. Abstract.