News & Events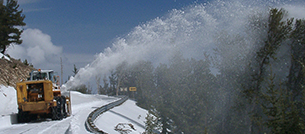 What's New
Get the latest news and updates from Clear Roads, including links to recent research, state DOT practices, training opportunities and events in the winter maintenance world. Visit our Latest News page or subscribe to our email list.
RFP Posted for New Research Project
Clear Roads is currently soliciting investigator proposals for a new research project. The deadline to submit proposals is October 28, 2020. See the RFP page for details.
Clear Roads TAC Meeting
The Clear Roads Technical Advisory Committee held its spring meeting via videoconference April 21-22. Minutes are posted on the Meetings page.
Clear Roads Training Materials Featured in APWA Reporter
Clear Roads training materials were featured in the October 2019 issue of APWA Reporter magazine. The article highlights Clear Roads' video training on plowing intersections and interchanges, video training on using liquids for anti-icing and deicing, and instructor-led training modules for snowplow operators and supervisors.
Clear Roads Snowplow Training Featured in Roads & Bridges Magazine
Clear Roads' modular, customizable training materials for snowplow operators and supervisors were featured in the February 2018 issue of Roads & Bridges magazine. See the article.
Clear Roads Salt Manual Featured in APWA Reporter Magazine
The best practices manual on salt procurement, storage and application developed through a recent Clear Roads project was featured in the October 2016 issue of APWA Reporter magazine. See the article.
Recent Research Results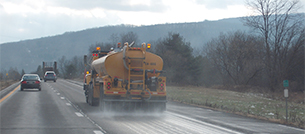 Weather Event Reconstruction and Analysis Tool
To help transportation agencies conduct post-storm analyses, researchers developed a web-based tool that gathers online weather data from multiple sources into a single comprehensive report for a specific location and time.
Project details and final report
Two-page brief
Training for Plowing Different Interchange Configurations
Researchers developed an hour-long video that provides animated sequences of efficient plowing paths for 10 different interchange and intersection configurations. A training manual and reference cards complement the video.
Project details and video
Two-page brief
Synthesis Reports
Clear Roads has published two new synthesis reports. Effective Snow and Ice Personnel and Equipment Management for Storm Activation explores how state DOTs determine when to activate and deactivate winter maintenance crews, and Accuracy of Deicer and Abrasive Material Application Equipment examines state DOTs' practices for calibrating their deicer application equipment.
Utilization of AVL/GPS Technology: Case Studies
Researchers profiled six state DOTs that use AVL/GPS in winter maintenance fleets. These case studies provide guidance for successful implementation, and can serve as templates to help agencies get the best value out of different levels of AVL/GPS applications.
Project details and final report
Two-page brief
Training Videos on Liquid-Only Plow Routes
This project created two videos that explain the benefits of liquid-only plow routes, describe how and when to use them, and outline the steps to implement a program. The videos are designed to help state DOTs garner support for and accelerate the implementation of liquid-only plowing.
New Resources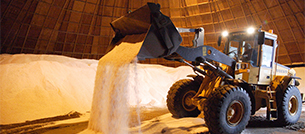 National Survey Compiles Fifth Year of Winter Maintenance Data
We've published our fifth Annual Survey of State Winter Maintenance Data, which compiles winter resources, material and cost data from 36 states for the 2018-2019 winter season. The spreadsheet includes all submitted data as well as calculated statistics and a United States map that displays many of these metrics. It also includes data from the 2014-2015, 2015-2016, 2016-2017 and 2017-2018 surveys and displays averages and changes across winter periods.
Clear Roads Is Now Overseeing the Qualified Products List (QPL)
For many years, the Qualified Products List maintained by the Pacific Northwest Snowfighters association has helped agencies identify deicing chemicals and additives that meet established standards for corrosiveness and impact on the environment. As the QPL continues to grow, Clear Roads will be overseeing product testing and administration for the list, which is now called the Clear Roads QPL. See the QPL page and Letter to Vendors.
Snowplow Operator and Supervisor Training
This project developed a comprehensive snowplow operator and supervisor training program that provides flexibility for states to modify or update the content as needed. The 22-module program covers equipment, materials, techniques and procedures. Project details.
Product Experience Survey Results
Every year, Clear Roads members complete a survey on the results of winter maintenance materials and equipment testing that their agencies have conducted during the previous winter. The informal survey is not a scientific evaluation, but serves as a tool for states to share their experiences. Results of the 2018-2019 survey are now available.