News & Events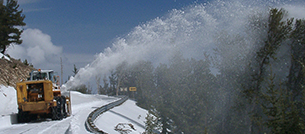 What's New
Get the latest news and updates from Clear Roads, including links to recent research, state DOT practices, training opportunities and events in the winter maintenance world. Visit our Latest News page or subscribe to our email list.
Clear Roads TAC Meeting
The Clear Roads Technical Advisory Committee held its spring meeting via videoconference April 12-14. Minutes are posted on the Meetings page.
Clear Roads Research in the News
—"Free CDL Training for Equipment Operators": Clear Roads' commercial driver's license (CDL) training materials were featured in the August 2022 issue of APWA Reporter.
—"Steering Clear of Crashes": Clear Roads' safe and defensive driving training materials were featured in the October 2021 issue of APWA Reporter. The training was also featured on Episode 57 of AASHTO's SICOP Talks Winter Ops podcast.
—"Can You Hold the Salt?": Clear Roads research on alternative methods for deicing was spotlighted in the September 2021 issue of Roads & Bridges.
Clear Roads Training Materials Featured in APWA Reporter
Clear Roads training materials were featured in the October 2019 issue of APWA Reporter magazine. The article highlights Clear Roads' video training on plowing intersections and interchanges, video training on using liquids for anti-icing and deicing, and instructor-led training modules for snowplow operators and supervisors.
Clear Roads Snowplow Training Featured in Roads & Bridges Magazine
Clear Roads' modular, customizable training materials for snowplow operators and supervisors were featured in the February 2018 issue of Roads & Bridges magazine. See the article.
Recent Research Results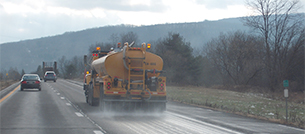 Electric Vehicle Technologies and Alternative Fuels for Winter Road Operations
Interviews with 13 state DOTs and others in government, as well as vehicle and fuel system manufacturers, informed this synthesis of industry best practices and future considerations for making winter maintenance fleets greener.
Project details and final report
Two-page brief
High Performance Blade Evaluation
New tools—including a testing protocol and quick reference guide—aim to help agencies compare the costs and variables of different plow blades and determine which blades are the most cost-effective.

Project details, webinar and final report
Quick reference guide
Corrosion and Connectors Don't Mix
This synthesis project used a survey of winter maintenance professionals and a review of relevant literature to gather information that will aid transportation agencies in reducing—or avoiding—the corrosion of electrical connections on winter maintenance equipment.
Project details and final report
Expanded Use of AVL/GPS Technology
This project identifies opportunities to maximize an agency's investment in Automated Vehicle Location (AVL) and Global Positioning Systems (GPS) technologies through year-round maintenance activities.

Project details, webinar and final report
Two-page brief
Indoor Stockpile Measurement Systems
Clear Roads examined a range of existing and emerging approaches to measuring indoor stockpiles, including automated and semi-automated systems using LiDAR, photogrammetry, surveying, acoustic sensing, and drone technology.

Project details, data and final report
Two-page brief
Understanding the NaCl Phase Diagram
This project developed a new tool and other educational materials to help practitioners understand how and when to apply sodium chloride for best results.
Project details and final report, fact sheet,
Two-page brief
Expanded Application Rate Guidance for Liquid Deicers 
New guidelines provide application rates for salt brine and brine blends across a range of field conditions, including lower pavement temperatures.
Project details, guidelines and final report
Two-page brief
Measuring the Efficiencies of Tow Plows and Wing Plows 
Researchers developed a decision support tool that lets state DOTs compare the efficiencies and life cycle costs of using different snowplow types on specific plow routes.
Project details, tool and final report
Two-page brief
Tools for Improving Snowplow Route Optimization Projects 
This project developed guidance on the technical requirements and key considerations for undertaking a plow route optimization program, including a contracting language template to help agencies build route optimization RFPs.
Project details and final report
Two-page brief
Adding Camera Systems to Snowplows
Taking into account the variety of available cameras, installation configurations and uses for aftermarket camera systems, researchers compiled recommendations for states wanting to initiate or expand camera use on winter maintenance vehicles.
Project details and final report
Two-page brief
Recruiting and Retaining Highway Maintenance Workers
Researchers created a comprehensive guide of innovative, practical strategies that state and local transportation agencies can use to attract and retain highway maintenance workers. Case studies cover recruitment programs, retention strategies, underrepresented groups, younger workers, and program improvements.
Project details and final report
Two-page brief
Pre-wetting Methods and Procedures
Researchers detailed the current state of the practice for pre-wetting salt and other solid materials, capturing details on equipment, methods, materials and application rates. The project also identified a list of preliminary recommendations to help agencies get the most benefit from pre-wetting.
Project details and final report
Two-page brief
Advanced Technologies for Winter Operations
Researchers developed a guide to implementing eight emerging and recently developed winter maintenance technologies. By understanding the options and their benefits, agencies can make informed decisions about which technologies to invest in.
New Resources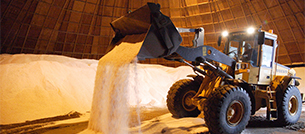 National Survey Compiles Eighth Year of Winter Maintenance Data
We've published our eighth Annual Survey of State Winter Maintenance Data, which compiles winter resources, material and cost data from 39 states for the 2021-2022 winter season. The spreadsheet includes all submitted data, as well as calculated statistics, winter severity index data, and a United States map that displays many of these metrics. The spreadsheet also includes data from the previous seven surveys (winters 2014-2015 through 2020-2021) and displays averages and changes across winter periods.
Proficiency Testing Program for Labs
Clear Roads is partnering with AASHTO re:source to help laboratories improve and standardize their testing protocols for materials used for anti-icing/deicing applications. Read more.
Entry-Level CDL Training Materials
A new federal rule is changing how transportation agencies train equipment operators who need to obtain or upgrade a commercial driver's license (CDL). To help agencies comply with the new requirements, Clear Roads has developed entry-level CDL training materials for instructor-led classroom and behind-the-wheel training. Available as a free download for any state or local public agency, the training materials include a fact sheet and timeline to help agencies achieve compliance. See the project page and fact sheet.
Winter Maintenance at the 2022 TRB Meeting
We've published a list of technical sessions and papers related to winter maintenance that were presented at the 2022 Transportation Research Board Annual Meeting. The list includes more than 15 papers and posters, with links to abstracts and presentation materials.
Training Materials for Plow Operators
Clear Roads continues to add to its comprehensive suite of training materials for snowplow operators and supervisors. Free for any agency to download, the materials include:
—Clear Roads' flagship 22-module Snowplow Operator and Supervisor Training.
—New modules on defensive driving and safe driving for operators.
—Videos on clearing challenging interchanges.
—Videos on using liquid-only plow routes.
Clear Roads Is Now Overseeing the Qualified Products List (QPL)
For many years, the Qualified Products List maintained by the Pacific Northwest Snowfighters association has helped agencies identify deicing chemicals and additives that meet established standards for corrosiveness and impact on the environment. As the QPL continues to grow, Clear Roads will be overseeing product testing and administration for the list, which is now called the Clear Roads QPL. See the QPL page and Letter to Vendors.
Product Experience Survey Results
Every year, Clear Roads members complete a survey on the results of winter maintenance materials and equipment testing that their agencies have conducted during the previous winter. The informal survey is not a scientific evaluation, but serves as a tool for states to share their experiences. Results of the 2020-2021 survey are now available.