News & Events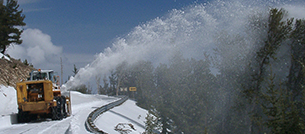 What's New
Get the latest news and updates from Clear Roads, including links to recent research, state DOT practices, training opportunities and events in the winter maintenance world. Visit our Latest News page or subscribe to our email list.
Clear Roads TAC Meeting
The Clear Roads Technical Advisory Committee held its spring meeting via videoconference April 13-15. Minutes are posted on the Meetings page.
Clear Roads Training Materials Featured in APWA Reporter
Clear Roads training materials were featured in the October 2019 issue of APWA Reporter magazine. The article highlights Clear Roads' video training on plowing intersections and interchanges, video training on using liquids for anti-icing and deicing, and instructor-led training modules for snowplow operators and supervisors.
Clear Roads Snowplow Training Featured in Roads & Bridges Magazine
Clear Roads' modular, customizable training materials for snowplow operators and supervisors were featured in the February 2018 issue of Roads & Bridges magazine. See the article.
Clear Roads Salt Manual Featured in APWA Reporter Magazine
The best practices manual on salt procurement, storage and application developed through a recent Clear Roads project was featured in the October 2016 issue of APWA Reporter magazine. See the article.
Recent Research Results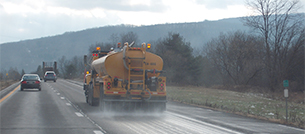 Pre-wetting Methods and Procedures
Researchers detailed the current state of the practice for pre-wetting salt and other solid materials, capturing details on equipment, methods, materials and application rates. The project also identified a list of preliminary recommendations to help agencies get the most benefit from pre-wetting.
Project details and final report
Two-page brief
Advanced Technologies for Winter Operations
Researchers developed a guide to implementing eight emerging and recently developed winter maintenance technologies. By understanding the options and their benefits, agencies can make informed decisions about which technologies to invest in.
Project details and final report
Two-page brief
Tools and Strategies for Developing Severity Indexes
Researchers created a step-by-step guide and a flowchart tool to help agencies identify or develop severity index methods that fit their needs and their available data sources.
Project details and final report
Two-page brief
Standard Specifications for Plow Blades with Carbide Inserts
Researchers developed standard procurement specifications for carbide plow blades, providing agencies with an effective tool to acquire high-quality, long-lasting blades that consistently perform well on the road.
Project details and final report
Two-page brief
Synthesis Report: Inventory and Use of Salt Spreading Systems
Clear Roads states were surveyed about which spreader systems they use, what features the systems have, and how satisfied the agencies are with their systems.
Synthesis Report: Practices and Needs for Weather Forecasting
State DOTs were surveyed about how they meet their weather forecasting needs, including which approaches are effective and what additional resources would be valuable.
Alternative Methods for Deicing
Researchers created a compendium of alternative deicing methods and technologies, ranging from low-investment process changes to larger mechanical improvements.
New Resources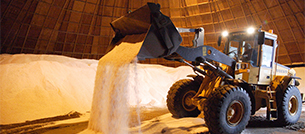 Winter Maintenance at the 2021 TRB Meeting
We've published a list of technical sessions and papers related to winter maintenance that were presented at the virtual 2021 Transportation Research Board Annual Meeting. The list includes more than 20 papers and posters, with links to abstracts and presentation materials.
National Survey Compiles Sixth Year of Winter Maintenance Data
We've published our sixth Annual Survey of State Winter Maintenance Data, which compiles winter resources, material and cost data from 36 states for the 2019-2020 winter season. The spreadsheet includes all submitted data as well as calculated statistics and a United States map that displays many of these metrics. It also includes data from the previous five surveys (winters 2014-2015 through 2018-2019) and displays averages and changes across winter periods.
Training Materials for Plow Operators
Clear Roads continues to add to its comprehensive suite of training materials for snowplow operators and supervisors. Free for any agency to download, the materials include:
—Clear Roads' flagship 22-module Snowplow Operator and Supervisor Training.
—New modules on defensive driving and safe driving for operators.
—Videos on clearing challenging interchanges.
—Videos on using liquid-only plow routes.
Clear Roads Is Now Overseeing the Qualified Products List (QPL)
For many years, the Qualified Products List maintained by the Pacific Northwest Snowfighters association has helped agencies identify deicing chemicals and additives that meet established standards for corrosiveness and impact on the environment. As the QPL continues to grow, Clear Roads will be overseeing product testing and administration for the list, which is now called the Clear Roads QPL. See the QPL page and Letter to Vendors.
Product Experience Survey Results
Every year, Clear Roads members complete a survey on the results of winter maintenance materials and equipment testing that their agencies have conducted during the previous winter. The informal survey is not a scientific evaluation, but serves as a tool for states to share their experiences. Results of the 2020-2021 survey are now available.