News & Events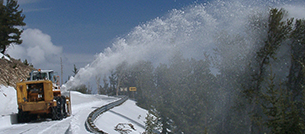 September Newsletter
In this quarterly e-newsletter, you'll find summaries and links to the latest technical news and best practices from the U.S. and around the world, highlighting applications of winter maintenance research and technology and the latest transportation research by state DOTs, universities, TRB and FHWA. See the newsletter.
Clear Roads Salt Manual Featured in APWA Reporter Magazine
The best practices manual on salt procurement, storage and application developed through a recent Clear Roads project was featured in the October 2016 issue of APWA Reporter magazine. See the article.
Clear Roads Survey Results Featured in Roads & Bridges Magazine
The Clear Roads annual survey to collect state winter maintenance data and the first year of the survey results were featured in an article in the September 2016 issue of Roads & Bridges magazine. See the article.
Clear Roads TAC Meeting
The Clear Roads Technical Advisory Committee met September 11-12 in Pittsburgh. Minutes will be posted on the Meetings page.
Clear Roads Featured in TR News
The January-February 2014 issue of TR News included an 8-page feature on Clear Roads and its research. The article discussed the impacts of completed and in-progress Clear Roads research, the value of interstate collaboration, and projects that Clear Roads is undertaking with other multi-state pooled funds. See the article.
Recent Research Results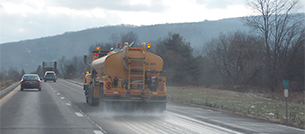 Snowplow Route Optimization
A review of snowplow route optimization projects showed that detailed data about a plow route network and close collaboration between route modelers and the operators who drive the routes are critical factors in an optimization project's success.
Project details and final report
Two-page brief
Winter Maintenance Contracting
Researchers identified factors that contribute to success in winter maintenance contracting, including open communication, clear contracts, and a true partnership with shared goals between agencies and contractors.
Project details and final report
Two-page brief
Plug-and-Play Initiative: Phase II
Researchers identified data types that will enhance a plug-and-play protocol for data transmission between winter maintenance equipment and central offices or other point locations. An open protocol will allow interoperability between different vendors' equipment and facilitate data sharing among agencies.
Project details and final report
Two-page brief
GPS/AVL Guidance
Researchers developed an equipment guide that describes how winter maintenance agencies are currently using GPS/AVL technology. The guide serves as a resource for agencies that are looking to implement or expand their use of GPS/AVL.
Project details and final report
Two-page brief
New Resources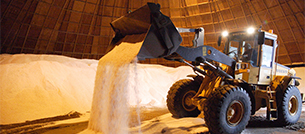 Winter Maintenance at TRB
We've published our annual compendium of papers on winter maintenance that were presented at the 2017 Transportation Research Board Annual Meeting. The 2017 compendium includes abstracts for 22 papers grouped into seven categories, covering a wide range of winter maintenance issues.
Product Experience Survey Results
Every year, Clear Roads members complete a survey on the results of winter maintenance materials and equipment testing that their agencies have conducted during the previous winter. The informal survey is not a scientific evaluation, but serves as a tool for states to share their experiences. Read more.
National Survey Compiles Second Year of Winter Maintenance Data
We've published our second Annual Survey of State Winter Maintenance Data, which compiles winter resources, material and cost data from 34 states for the 2015-2016 winter season. The spreadsheet includes all submitted data as well as calculated statistics and a United States map that displays many of these metrics. It also includes data from the 2014-2015 survey and displays averages and changes across the two-winter period.
Cost-Benefit Toolkit
This web-based toolkit takes the guesswork out of evaluating winter maintenance investments by facilitating cost-benefit analysis for 21 different winter maintenance materials, equipment and methods. There are also training materials and a user's manual to get you started.